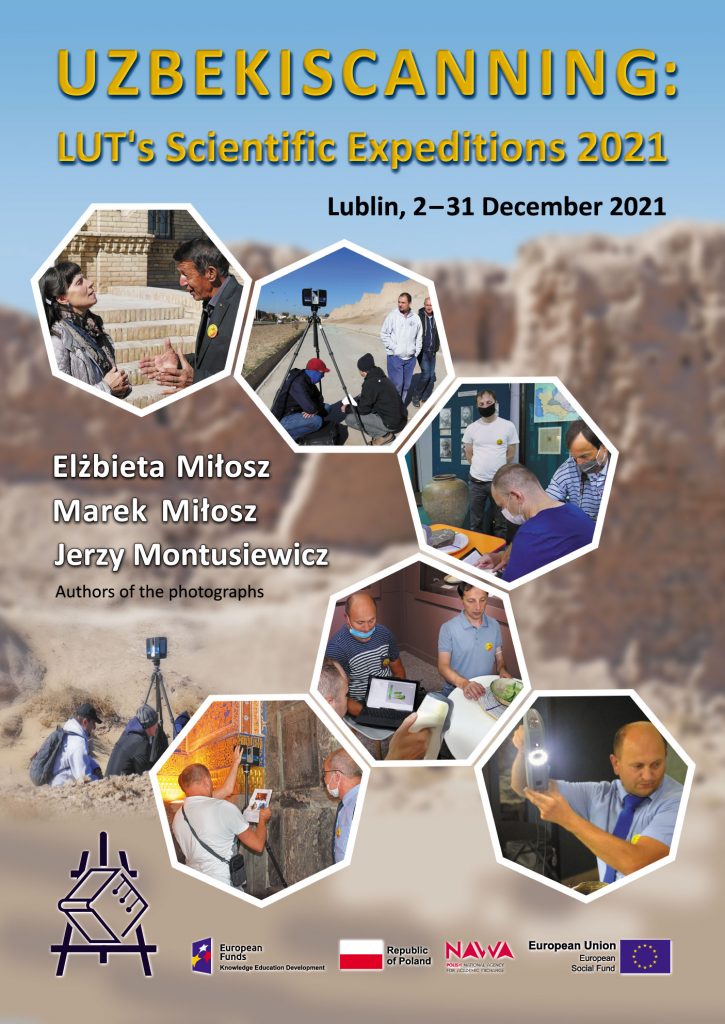 On 2 December 2021, the multimedia exhibition "Uzbekiscanning: LUT's Scientific Expeditions 2021" was opened in the CIiZT building of the Lublin University of Technology (in the library hall), presenting the course of scientific and practical expeditions carried out as part of the NAWA "3D Digital Silk Road" project. The curator of the exhibition is dr hab. eng. Jerzy Montusiewicz, prof. universities. The authors of 45 photos presented in large format at the exhibition are participants of the expeditions to Uzbekistan in 2021: dr hab. inż. Jerzy Montusiewicz, prof. university, dr inż. Marek Miłosz, prof. university and dr inż. Elżbieta Miłosz – 3D Digital Silk Road project manager.
The exhibition presents the oriental world of Uzbekistan, its colors and monuments of the Silk Road, the digitization of which was one of the main tasks of the 3D Digital Silk Road project. Employees of the Lublin University of Technology, with the great help of partners from Uzbekistan (National University of Uzbekistan from Tashkent, Chirchik State Pedagogical Institute from Chirchika, Urgench State University from Urgench and Samarkand State University from Samarkand), scanned selected, interesting items in the museums of Tashkent, Chirchik, and Urgench , Khiva and Samarkand, as well as selected architectural monuments of these cities. In the scanning process, the following equipment was used: the Artec Eva handheld scanner, working in structured light technology, the FARO terrestrial laser scanner, cameras, 360-degree camera and computers.
The presented photos concern the activities of two scientific expeditions of 6-person groups of employees of the Lublin University of Technology. For PL employees, these were expeditions 5 and 6, as part of the 3D Digital Silk Road project, these were expeditions II and III. At the exhibition you can see the process of scanning museum artifacts, interesting folk costumes of Uzbekistan, beautiful and exotic medresse buildings or mausoleums, the old city in the desert or petroglyphs on high rocks. The expeditions carried out in August and October 2021 allowed participants to experience the climate of this country: 40 degrees of heat, or large temperature jumps from 20 degrees during the day to 0 at night, which can be seen by their clothes.
A beautiful country, wonderful oriental monuments, priceless artifacts of cultural heritage, wonderful hospitable inhabitants of Uzbekistan – all this can be seen at the exhibition.
The exhibition also documents the cooperation of project participants from two different cultural worlds: the Muslim East and the Christian West, and the cooperation of people of different professions: IT specialists, museologists, historians working together to save from oblivion by digitizing the objects of the Great Silk Road in Uzbekistan.
The exhibition is open to visitors until December 31, 2021.
Multimedia presentation
Information about the exhibition: