Mausoleum of Zangi-Ata
The real name of Zangi-Ata is Sheikh Ai-Khoja ibn Taj Khodja ibn Mansur. The nickname Zangi-Ata means "black father". He was born into a family of descendants of Hazrat Arslan bobo. He was also the fifth murid of the Sufi Khoja Ahmed Yasawi, who is called the spiritual ancestor of all the Turkic tribes of Central Asia and Kazakhstan . The mausoleum complex consists of the following buildings: the Namazgokh Mosque (1870); minaret (2014); mausoleum of Zangi-Ata; courtyard with residential cells – hujras of the former madrasah (18th – 19th centuries.); cemetery with mausoleum Ambar bibi.
In the 1990s the Zangi-Ata memorial complex returned to its former function – a place of pilgrimage to the tomb of the holy Shaikh and his wife Ambar-on. Medieval monuments of architecture again become (the beginning of the 1990s) the functional center of the settlement of Zangi-Ata.
A radical reconstruction was carried out in the madrasah of the Zangi-Ata complex. As a result of the restructuring, the U-shaped planning structure that existed in the 16th century was returned. To do this, the khujras were demolished from the northwestern side, hastily built in the 1930s and 40s.
Two holy burials in the Zangi-Ata memorial complex are revered not only by Muslims of Uzbekistan, but also by foreign countries. Many foreign tourists aspire to visit these places.
Now the cult-memorial complex of Zangi-Ata has restored its centuries-old function, becoming a popular place of pilgrimage. The architectural image of the Zangi-Ata complex is unique. Its unique historical and architectural monuments built under Amir Temur, as well as buildings erected over six centuries, reflect the planning, constructive and stylistic originality of the architecture school of the Tashkent region.
Digitalization of the object by employees of the Lublin University of Technology
Panorama of the object:
Zangi Ota Ziyoratgohiga Courtyard
Zangi Ota Ziyoratgohiga – Tomb 1
Zangi Ota Ziyoratgohiga Tomb 2
Panoramy VR 360
Zangi Ota Ziyoratgohiga malsoleum VR 360 panorama
One of the rooms in the Zang Ata Mausoleum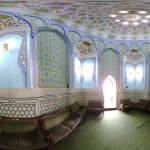 Zangi Ota Ziyoratgohiga Courtyard VR 360 Panorama
Courtyard in front of the Mausoleum of Zanga Ota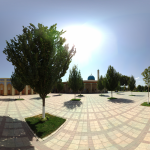 Zangi Ota Ziyoratgohiga Tomb VR 360 Panorama
Tomb in the Mausoleum of Zangi Ota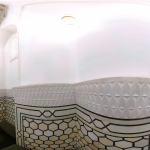 Instrukcja uruchamiania panoram VR w aplikacji mobilnej